Here is our full menu. You can order almost all of these for pick up right here on our website quick and easy! We've worked to get treats for any occasion, mood, or level of hunger. Browse through our amazing deserts for an instant sweet tooth! If you have any questions about our menu items or anything at all, feel free to give us a call anytime.
$3.75 Per Cupcake or $36 Per Dozen
Medium – $28 Per Dozen
Minis – $18 Per Dozen
(Medium & Minis require one day in advance before pick-up)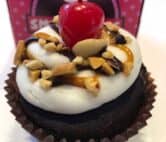 Scoop In Cup – $3.50
Scoop On Cone – $3.75
When it comes to the cream, we know our stuff. It may not be common knowledge that we serve ice cream as well, but those who know it and taste our great flavors don't want the secret out. We simply cannot treat our ice cream and treats like they are normal. Our ice cream must meet the great standards we set for our cupcakes, and is certainly meets them. Some of our very popular treats even incorporate ice cream with our cupcakes; ice cream infused cupcakes and our SmallCake Smash.
Red Velvet
Cookies-N-Cream
Mint Chocolate Chip
Vanilla Bean
24 Karrot
Banana Pudding
Cookie Dough
Wedding Cake
Strawberry
Milk Chocolate
Icing Center – $3.50
Ice Cream Center – $5.00
Regular – $6.75
Cupcake Infused – $8.00
Ice Cream Infused Cupcake
Cupcake With One Scoop – $7.50
Cupcake With Two Scoops – $8.50
Big Cakes | Bakery In Asheville
YOU CAN UPLOAD ANY PICTURE YOU WANT ON YOUR CAKE
That's right, we do do Big Cakes! We are actually really good at, and we're proud of our big cakes. We're also happy to be able to offer the ability to upload images directly on our website to be printed on the big cakes or cupcakes. That means you can show up to the birthday party with a cake representing a child's idol, or an adult's fond memory or love of their life. You can really make a cake mean everything to a person in many situations. We can also find good pictures of a certain character or theme for you upon request.
SmallCakes Gift Card
$5.00 – $200.00
This Gift Card CAN ONLY BE USED FOR ONLINE ORDERS.
THE IN-STORE GITF CARD CANNOT BE USED ONLINE.
Additional information
| | |
| --- | --- |
| Gift Card Amount | $5, $10, $25, $36, $50, $100, $200 |
Monday-Thursday: 10AM – 7PM
Friday-Saturday: 10AM – 9PM
Sunday: 1PM – 6PM
Because we bake fresh every day, we are subject to demand and could close up to 2 hours early if we run out of cupcakes.